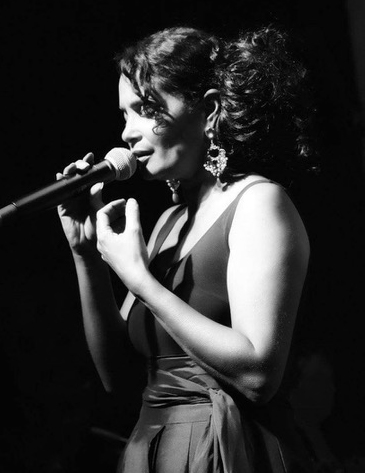 My name is Lourdes Valentin. I am a Jazz singer, song-writer, guitarist and painter. I was born in the Bronx, NY, to Puerto Rican parents and traveled the globe as a professional model for six years which led me to move to Miami. While living in Miami Beach, still working as a model, I visited a chruch that inspired me to sing. This experience encouraged me to begin my music career.
I have been attracted to singing and music from an early age and began to study guitar at the age of fifteen. Some years later, I studied singing in the classical, jazz, pop and musical theater genres in Miami .
My musical concept involves unique arrangements, improvisation, rich exciting rhythms, and lyrics that inspire and uplift the spirit of my audiences. The concept evolves as I receive new experiences in my life and explore new territories in the music world. In October of 2017 I coproduced my second single, an original composition entitled "Crossroads." I also created the artwork for this release.

My performances have been an adventurous journey in the world of Jazz, including various festivals in South Florida and a Billie Holiday Tribute. Presently, I am collaborating with The Miami Big Sound Orchestra as the Lead Female Singer.

I started a blog to connect on a personal level with my audience. The process of becoming an artist birth forth an idea for a future foundation which will be called Heavens Girl. "Heaven's Girl" was a name my pianist gave me. It always reminds me of how Lester Young named Billie Holiday,"Lady Day". The foundation's purpose is to help women realize their value and to discover and use their talents to become entrepreneurs. Thank you for being a part of my world of music… a world of pure imagination.
https://ovmradio.com/wp-content/uploads/2019/02/IMG_1672-1.jpeg
214
320
OVM Radio
https://ovmradio.com/wp-content/uploads/2022/11/ovm-radioRecurso-3.svg
OVM Radio
2019-02-21 08:03:02
2019-02-21 08:03:03
Lourdes Valentin